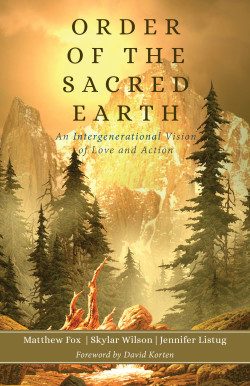 Order of the Sacred Earth
An Intergenerational Vision of Love and Action
Matthew Fox, Skylar Wilson & Jennifer Listug
Paperback
978-1-939681-86-7
US $16.95 /CAN $22.99
Ebook
978-1-939681-87-4
US $12.95 /CAN $16.99
July 2018
Matthew Fox, a 76-year-old elder, activist and spiritual theologian, along with Skylar Wilson, a 33-year-old wilderness guide, leader of inter-cultural ceremonies, and an event producer, and Jennifer Listug, a 28-year-old writer, spiritual leader, and publicist, are presenting a challenge and an opportunity in the vision launched in this modest book. That vision is about creating an Order of the Sacred Earth. Essay contributors to the book and its vision include Mirabai Starr, Brian Thomas Swimme, Adam Bucko, and David Korten.
Bios
Matthew Fox has been called a maverick, a rebel, and by some a heretic. In his quest for a viable spirituality he discovered the ancient (but often suppressed) creation spirituality tradition that honors the sacredness of all creation. He has worked closely with Native spiritual leaders, feminists, activists, and others, and got himself in trouble with his mother church and the pope. He has written 34 books on spirituality and culture now translated in 67 languages and has taught in many schools including Stanford, the University of Creation Spirituality, which he founded, and the soon to be born Fox Institute for Creation Spirituality in Boulder, Colorado. Among his books are Original Blessing, The Coming of the Cosmic Christ, A Way To God: Thomas Merton's Creation Spirituality Journal, Meister Eckhart: A Mystic Warrior for Our Times.
Skylar Wilson, MA is a graduate of Philosophy, Cosmology, and Consciousness at the California Institute of Integral Studies and founder of Wild Awakenings, a wilderness journey and rites of passage organization dedicated to the thriving of Earth, life, and humanity. Skylar has experienced the healing power of wilderness over and over while guiding trips around the world for adolescents and adults over the past 15 years. Skylar is director of an inter-cultural ritual called the Cosmic Mass, which attempts to bring together the world's spiritual traditions into an embodied, transformational ritual that builds community through dancing and the arts. He serves on the Vision Council at the Stepping Stones Project where he continues to lead two on-going rites of passage groups for teenagers. He enjoys surfing, swimming, climbing, writing, giving and receiving bodywork, officiating weddings and end-of-life rituals, as well as one-on-one integration sessions with people of all ages and backgrounds. www.wildawakenings.com
Jennifer Listug works in book publishing as a private consultant for authors assisting with manuscript editing and book publicity. She is also the co-director of Wild Awakenings, an adult rites of passage organization dedicated to fostering the thriving of earth, life, and humanity. Jennifer was on the Board of Trustees at the Unity in Marin Spiritual Community for three years, serving as the Board President for 18 months. Also at Unity in Marin, Jennifer was a guest speaker for Sunday mornings, she led Rites of Passage groups for teenagers, and founded a young adult interfaith group committed to conscious connection, community service, and social activism. She is a passionate hiker, reader, writer, and public speaker.
Praise
"The Order of the Sacred Earth is a vision as vital and inspired as any on our planet in this time of cultural collapse and regeneration — a gathering together of mystic warriors and visionary artisans of cultural evolution. There are now millions of us — imaginal cells of emerging ecocentric cultures — but what is needed is a consciously convened community that brings us together to synergistically deepen and amplify our artistry and to train and initiate others. Fox and Wilson's co-dreamed vision draws from the very heart of the dream of the Earth." —Bill Plotkin, author of Soulcraft and Wild Mind: A Field Guide to the Human Psyche