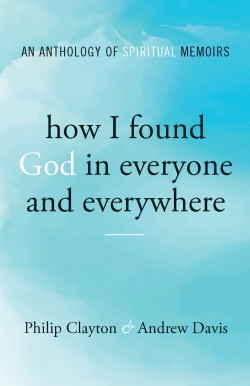 How I Found God in Everyone and Everywhere
An Anthology of Spiritual Memoirs
Philip Clayton & Andrew Davis
Paperback
978-1-939681-88-1
US $16.95 /CAN $22.99
Ebook
978-1-939681-89-8
US $11.99 /CAN $16.50
August 2018
How I Found God in Everyone and Everywhere captures for a general audience the spiritual shift away from a God "up there" and "out there" and towards an immanent divine right here. It's built around the personal journeys of a close-knit group of prominent contributors. Their spiritual visions of immanence, sometimes called "panentheism," are serving as a path of spiritual return for a growing number of seekers today. Contributors include Deepak Chopra, Richard Rohr, Rupert Sheldrake, Matthew Fox, and Cynthia Bourgeault.
Bios
Philip Clayton is a contemporary American philosopher of religion and philosopher of science. His work focuses on the intersection of science, ethics, and society. He currently holds the Ingraham Chair at Claremont School of Theology and serves as an affiliated faculty member at Claremont Graduate University. Clayton specializes in the philosophy of science, philosophy of biology, and philosophy of religion, as well as in comparative theology.As an administrator in higher education, he served as Dean of the Claremont School of Theology, and as Provost and Senior Vice President of Claremont Lincoln University, which at that time was an interreligious university. He was Principal Investigator for the Science and the Spiritual Quest project from 1999 to 2003.He is the author of many books including Explanation from Physics to Theology, God and Contemporary Science, The Problem of God in Modern Thought, Mind and Emergence: From Quantum to Consciousness, and In Quest of Freedom: The Emergence of Spirit in the Natural World.
Andrew Davis is an up and coming writer and doctoral candidate in Religion at Claremont School of Theology. An advocate of cross-cultural knowledge and interreligious literacy, his studies in theology and philosophy have led him to a variety of religious contexts and communities around the world. He is writing a dissertation on the topic of this book.