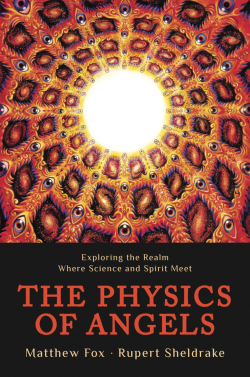 The Physics of Angels
Exploring the Realm Where Science and Spirit Meet
Trade Cloth
9781939681287
US $16.95 /CAN $18.50
Ebook
9781939681294
US $8.99 /CAN $9.99
What are angels? Many people believe in angels, but few can define these enigmatic spirits. Now visionary theologian Matthew Fox and acclaimed biologist Rupert Sheldrake—pioneers in modern religious thinking and scientific theory—launch a groundbreaking exploration into the ancient concept of the angel and restore dignity, meaning, and joy to our time-honored belief in these heavenly beings.
Praise for Matthew Fox and Rupert Sheldrake
Book of the Year Award Winner: The Science Delusion / Science Set Free
"Sheldrake drags ten of the most powerful dogmas out of the basement and into the light of day; and does science, humanity and the world a large, a considerable favour." —The Independent
"Thirty years after his first heretical books, Sheldrake's new one, Science Set Free, is a landmark achievement. No science writing has inspired me more." —Deepak Chopra, San Francisco Chronicle
"So compelling that it sets the reader to underlining words and scribbling notes in the margin." —Washington Post
"Rupert Sheldrake is the most controversial scientist on Earth." —Robert Anton Wilson, author of Prometheus Rising and The Illuminati Papers
"Matthew Fox might well be the most creative, the most comprehensive, surely the most challenging religious-spiritual teacher in America." —Thomas Berry, author of The Great Work
"History will name Fox one of the great Christian spirits of our age." —John Shelby Spong
Bio
Matthew Fox is an American Episcopal priest and theologian. Formerly a member of the Dominican Order within the Roman Catholic Church, he is now a member of the Episcopal Church. Fox was an early and influential exponent of a movement that came to be known as Creation Spirituality. He is the author of many books.

Rupert Sheldrake, a biologist and author, is best known for his theory of morphic fields and morphic resonance, which leads to a vision of a living, developing universe with its own inherent memory. He worked in developmental biology at Cambridge University, where he was a Fellow of Clare College. He was then Principal Plant Physiologist at the International Crops Research Institute for the Semi-Arid Tropics (ICRISAT), in Hyderabad, India. From 2005 to 2010 he was Director of the Perrott-Warrick project, funded from Trinity College, Cambridge.