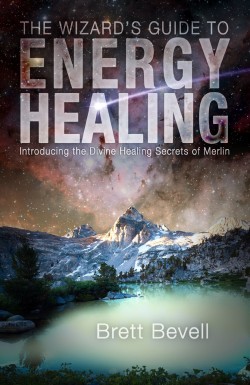 The Wizard's Guide to Energy Healing
Introducing the Divine Healing Secrets of Merlin
Trade Paper
978-1-939681-49-2
US $15.95 | CAN $19.50
Ebook
978-1-939681-50-8
US $9.99 | CAN $12.50
The book teaches a system of energy healing called Magical Awakening, which is a very playful and yet powerful style of energy healing based in the Celtic shamanic concept of the 3 cauldrons, plus Arthurian imagery. It is a rich, Merlin inspired magical energy healing system as playful as Harry Potter and more powerful than Reiki.

Praise
"As a dancer, I have always been very sensitive to energy and have responded well to energetic healing. Brett's work is exactly what the name implies—it's 'Magical.' His 'Magical Awakening Treatments' have helped me pass through emotional obstacles and blockages with ease and grace."—Carrie Ann Inaba, Dancer, Choreographer and "Dancing With the Stars" Judge
"In these pages Brett Bevell shares an ancient system that has been tantamount to his own awakening. He offers the keys not just to empower you to know, claim and embrace the magical inheritance that is your own Divine birthright, but he also reveals the mystery of how each piece of the legend is a blueprint for personal and global healing. The energy of Merlin was revealed to me in the light of Brett's consciousness many years ago. I know this book comes directly from the Merlin lineage, read it and you too will experience a Divine Magical Awakening that will change your life beyond anything you could have imagined."—Elizabeth Harper, mystical artist, color clairvoyant, award winning author of Wishing: How to Fulfill Your Heart's Desires and co-author of 365 Days of Angel Prayers
"The Wizard's Guide to Energy Healing is a powerful book that transcends its title. It is a clear and simple guide to the deepest levels of Healing and Well Being, while effortlessly connecting the reader to an underlying Source of Love and Joy."—Alexandra Marquardt, Medical Intuitive, Teacher, Healer, Founder of the LightWorks Healing Institute
Bio
Brett Bevell is the author of The Reiki Magic Guide To Self Attunement, Reiki for Spiritual Healing, and Energy Healing For Everyone, as well as the poetry books America Needs A Woman President and America Needs A Buddhist President, a poem that initially aired nationwide on NPR's "All Things Considered." Brett is the winner of the 1995 Paul Laurance Dunbar Poetry prize and the author of the book of collected poems Of Thee I Sing.
Brett teaches regularly at Omega Institute for Holistic Studies in Rhinebeck, NY and at The Sanctuary in Koh Phangan, Thailand. He has been visiting teacher at Esalen Institute and presented at Alex Grey's Chapel of the Sacred Mirrors (formerly in New York City). Learn more about Brett at www.brettbevell.com.