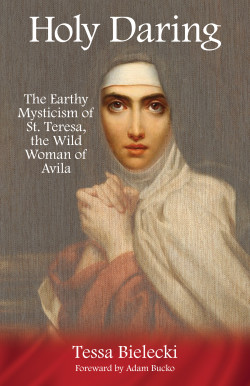 Holy Daring
The Earthy Mysticism of St. Teresa, the Wild Woman of Avila
Revised Edition
Tessa Bielecki
Foreword by Adam Bucko
Paperback
978-1-939681-59-1
US $15.95 /CAN $20.99
Ebook
978-1-939681-60-7
US $9.99 /CAN $12.99
This new edition of Holy Daring—revised and updated for new readers in honor of the 500th Anniversary of St. Teresa's birth—will be an abiding source of inspiration to all who want a fuller, deeper, meaningful, and balanced life. Tessa Bielecki shows how Teresa's vibrant natural life was the foundation of her mystical one, rekindling St. Teresa's outrageous spiritual impulse.
Bio
Tessa Beilecki is a former Carmelite monk who was a Mother Abbess for almost 40 years. She is the author of several critically acclaimed books on Teresa of Avila including "Teresa of Avila: Mystical Writings" and "Teresa of Avila: Ecstasy and Common Sense". She is currently co-director of the Desert Foundation and lives in a hermitage in Crestone, Colorado.
Adam Bucko is an activist, spiritual director to many of New York City's homeless youth, and co-author of a new award-winning book called "Occupy Spirituality: A Radical Vision for a New Generation."
Blurbs
"Tessa's deep intimacy with Teresa of Avila permeates this beautiful book and creates an invitational space for readers of any tradition (or none) to enter into their own transformational relationship with the 'wild woman of Avila.'"—Mirabai Starr, translator of St. Teresa's "The Interior Castle" and "God of Love"
"Tessa Bielecki has intuited the spirit of St. Teresa of Avila. This book on St. Teresa is a gem....Intimate union between these two great Teresas is the only explanation."—Willam McNamara, founder of Spiritual Life Magazine